Those Who Served:
A veteran, whether active duty military, retired military, national guard, reserve military - these are people who, at one point in his/her life, went beyond their-selves to support their community, country, and the rest of us.
Thank you for your dedication and sacrifice for your country.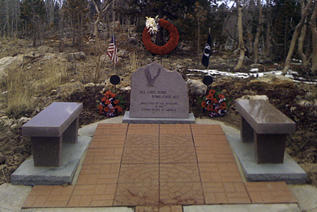 Visit Gilpin County's Veteran's Memorial in front of the Gilpin County Community Center.
Gilpin County Veteran Service Officer
The Gilpin County Veteran Service Officer, is available to assist Gilpin County Veteran's and their families with VA Benefits, State Veteran Benefits, and Gilpin County assistance programs. The Veterans Service Office can advise and assist veterans, active-duty members of the Armed Forces of the United States and their spouses, surviving spouses, dependent parents and dependents in presenting claims or obtaining entitlements or benefits from the Department of Veterans Affairs (VA). Some of the services that can be provided are preparation of forms, documentation of claims with pertinent data, proper submission and case management of claims to the appropriate agencies and discharge assistance.
Veteran's Benefits from the Department Veteran Affairs

VA Eligibility, VA Health Care — VA Eastern Colorado Health Care System, VA Forms-Submitting Claims for Veterans with Service-Connected Disabilities, VA Pensions, Travel Allowances, Education and Training, Home Loan Guaranty, VA Life Insurance, Burial & Memorial Benefits, Special Groups of Veterans, Transition Assistance, Benefits for Dependents and Survivors, Appeals of VA Claims Decisions, Military Medals and Records, Replacement Copies of DD 214, and Benefits Provided by Other Federal Agencies.

Colorado Division of Veteran Affairs & State of Colorado

The State of Colorado offers special benefits for its military service members and Veterans including Retired Military Pay tax exemptions, state employment preferences, education and tuition assistance, vehicle tags, as well as hunting and fishing license privileges. Eligibility for some benefits may depend on residency, military component and Veteran disability status.

Gilpin County

Veteran's Outreach, Counseling, Public Assistance programs with all the above. Helping Military, Veterans and their families in transition. Veteran support group and psychological counseling. Assist in connecting to Gilpin County Public Assistance programs. Also assist veterans, without transportation or limited mobility, with transportation to VA Medical Center and Colorado Community Based Outpatient Clinics.