Welcome to beautiful Gilpin County, Colorado! Gilpin County is a rural community in Colorado's high country, neighboring the Continental Divide, yet less than an hour west of downtown Denver. Residents enjoy a quality of life enhanced by the vast recreational opportunities offered by Golden Gate State Park, the Arapaho and Roosevelt National Forests, the limited-stakes gaming in Black Hawk and Central City, a state-of-the-art recreation center and fairgrounds, low taxes and financially secure local government.
The highest peak in Gilpin County is James Peak at 13,294 feet - one of the peaks along the Continental Divide Trail. The James Peak Wilderness was created in 2002 and provides many hiking trails to alpine tundra and lakes. The trailhead to the wilderness area is west of Rollinsville, to the right of the Moffat Tunnel.
Gilpin County is 54% public lands with most of that being U.S. Forest Service lands in the Arapaho & Roosevelt National Forest where recreation opportunities abound. Golden Gate Canyon State Park is also a wonderful resource that was established in 1960 and has 36 miles of hiking trails across its 12,000 acres.
Living in Gilpin County means co-existing with abundant wildlife. In the past ten years our moose population has surged making sightings commonplace and causing residents to exercise caution around them. The herds of Elk are quite a sight in addition to deer, coyote, foxes and bobcats. Many residents never actually see a mountain lion but rest assured that the cougars see us!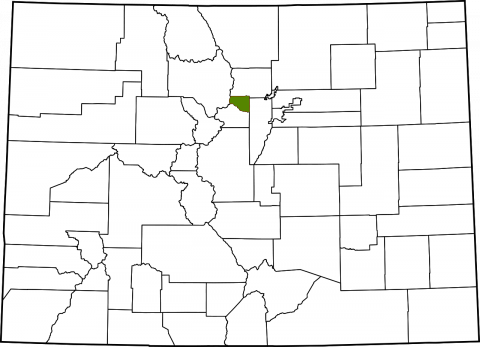 Location: North Central Colorado
Square Miles: 150
Population: 5,891 (2022)
Founded: 1861 (Colorado Territory Establishment)
Households: 2,791 (US Census)
Median Household Income: $96,784 (US Census)
Mean Travel Time to Work: 36.6 minutes (US Census)
Cities: City of Black Hawk, and the City of Central
County Seat: Central City
Historic District: Central City/Black Hawk National Historic District
State Park: Golden Gate Canyon State Park
National forest and wilderness: Arapaho & Roosevelt National Forest, James Peak Wilderness
Scenic trail and byway: Continental Divide National Scenic Trail, Peak to Peak Scenic and Historic Byway
Adjacent Counties:
Boulder County, Colorado, north
Jefferson County, Colorado, east
Clear Creek County, Colorado, west
Grand County, Colorado, west